Back pain is often treatable with a combination of medications and physical therapy. Before residents of Miami consider having back surgery, a doctor at the spine institute is likely to recommend physical therapy and other conservative treatment options. Physical therapy involves working through a series of stretches and exercises designed to relieve back pain and restore physical function.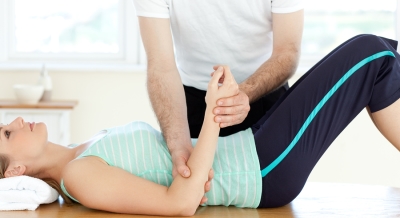 Stabilizes and Supports the Back
Physical therapists are healthcare providers who are specially trained to help patients overcome musculoskeletal challenges, such as acute and chronic back pain. During the first appointment, the physical therapist will conduct a thorough evaluation of patient's needs and goals, followed by the development of a personalized set of treatment recommendations. Physical therapists teach patients the movements that can gently stretch and strengthen key muscle groups, such as the abdominal muscles. Patients who faithfully adhere to their physical therapy treatment guidelines can expect that the strengthening of key muscles will help to stabilize and support the back.
Helps Patients Recover Without Surgery
Many patients can fully recover and rehabilitate the back without the need for back surgery. Although back surgery is certainly indicated in some cases, many patients prefer to use conservative treatments to avoid surgery if at all possible. With physical therapy, patients may enjoy considerable relief of pain and improvement of physical function. Physical therapist can assist patients as they work toward performing everyday tasks, which may range from safely navigating the stairs to getting back on the golf course.
Supports Recovery Following Surgery
When orthopedic surgery is necessary or recommended, the surgeon will almost certainly refer the patient to a physical therapist after the procedure. The recovery period for back surgery can vary considerably in duration and difficulty, depending on the type of back surgery that was performed and the general health of the patient. However, every patient who is recovering from back surgery can benefit from working with a physical therapist. Physical therapy can improve strength and muscle tone, shorten the recovery time, and possibly reduce dependence on pain relievers.